smartPRO 5000U universal programmer
· High-Speed USB 2.0
· High-Speed FPGA
· Include 32Mbit memory buffer
· Stand-alone Mode
· NAND FLASH program supported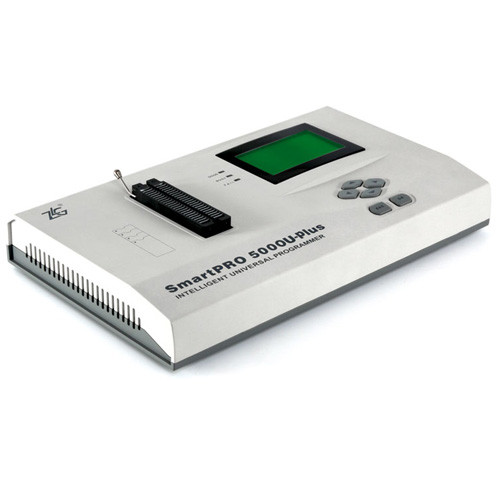 Introduction
1.SmartPRO 5000U was designed to be the fastest,reliable,and versatile programmer in supporting today's and tomorrow's device programming challenges.
2.SmartPRO 5000U incorporates a high speed CPU,Hi-Speed USB 2.0,and a powerful FPGA structure to meet the programming challenges of today and into the future. With a 32Mbit memory buffer which is expandable with a compact flash card,SmartPRO series is always here making the best even better.
3.SmartPRO 5000U combines a stand-alone system,ICP downloading with stand PC hosted operation for high speed,flexible programming of devices in design engineering and production applications.
4.SmartPRO 5000U presents high-performance on NAND flash and CPLD/FPGA programming.
5.SmartPRO 5000U's ergonomic design and software interface maximizes operator efficiency by combining speed and scalability in one system
Features & Benefits
>High Performance
SmartPRO 5000U's remarkable features can effectively reduce the error rates of the programming,saving your time and money.
SmartPRO 5000U can program the high density flash memory at near theoretical minimum programming time.
Designed for various application purposes:you can choose the programming mode flexibly according the programming requirements
· Stand-alone mode for massive production needs: Can work independently without PC
· PC Hosted mode for Reserch & Designing purpose
· ICP download mode: SmartPRO 5000U directly supports in-circuit programming using a dedicated ICP connector and an included cable.ICP mode is ideal for design engineering and low-volume production.
Flexible reliable support for the Latest Devices and packages:Support over 10,000 devices with low voltage devices down to 1.8V(VDD).Most of programmable devices in DIP,SDIP,SOP,SSOP,TSOP,PLCC,QFP,or BGA package types can be programmed on a default DIP48 socket or through an appropriate ADAPTER/CONVERTER.
>Advanced hardware features
Includes high speed CPU and 32Mbits memory buffer as standard.
· High-speed FPGA driven hardware for ultra-fast programming.
· Use the USB2.0 port to connect to PC: A faster, more reliable communications interface between the programmer and the host PC.
· A CF memory card slot can be used to expand the unit's memory to a maximum of 4Gbytes. (Memory cards are only required for stand-alone jobs lager than 32Mbits.)
· LCD displays programming status on a 16x4 character display
· Built-in keyboard for local operation.
Wide IC Coverage: Low-voltage programming supports voltages down to 1.8V allowing you to program the newest devices on the market.
High Reliability: Self-Test system check hardware status any time.
Continuity Test: Pin continuity and wrong chip insertion check prevent chips from accidental damage.
>Software designed with you in mind
The programming software's easy-to-use graphical interface eliminates your learning curve-you don't need the manual! The f riendly operation interface combines many powerful , easy to use functions.
· Project manager save option: project minimizes the whole process of device selection, file loading, device configuration setting, operation option etc. to a single step.
· Auto mass-program: The unique "Auto-Sense" function can detect inserted device and program the device properly without touching any key. Once the chips are in place, programming begins. Only the steps you need and nothing extra to get in the way. This function is very usable in mass-program.
· Device Check: Give a warning automatically according to the actual ID read when a mistake type is selected.
· CRC Verify: File CRC check and detect large file offset automatically. Serial number generator: Serial number can be generated and programmed into Code or Data locations automatically in anyway customer specified.
· Algorithm Updates: SmartPRO 5000U provides universal, highly flexible device programming support for today's memory, microcontroller and logic devices from all the major manufacture. We release new device support software from our web site weekly.
>A powerful multiprogramming
Connecting more SmartPRO 5000U programmers to a same PC can establish a multiprogramming system to program more chips to enhance the production capability. The programmers can work concurrently, each one's programming will not affact the others.
>Ideal for Engineering as well as Production Environment
Wide device covering range, flexible future expansion capability help users to achieve challenging time-to-market goal.
Specification
>General
Power:
By external power supply
AC input voltage:100-240V/47-63Hz
DC output voltage:12V/2A
Dimensions:
280mm*170mm*57mm(L*W*H)
Mass:
0.9kg(1.98 Pounds)
>Hardware
Interface port:
USB 2.O port
Integrates a high-speed MCU and 32Mbit Internal Flash memory
High-speed FPGA:
driven hardware for ultra-fast programming
A CF memory card slot
can be used to expand the unit's memory to a maximum of 4GB(Memory cards are only required for stand-alone jobs lager than 32Mbits)
LCD displays programming status on a 16*4 character display
Built-in Keyboard for local operation
Calibration:automatic self-calibration
Diagnostics:pin continuity test,RAM,ROM,CPU,pin drivers,power supply,
communications,cable,calibration verification timing.
>PC System
Requirements:Windows NT/2000/XP
>Software
Algorithms:Uses manufacturer approved algorithms
File Type:It can handle file in binary/machine code,
Intel Hex,Techtronics,Signetics,Motorola,ASCII,MS-DOS fn. COM&EXE,DRAFT etc
Device Supported: including,but not limited to low voltage,PROM,EPROM,EEPROM,Flash EEPROM,Microcontrollers,GAL.SRAM,TTL/COMS device test.
S/W update:Virtually supports you,and free life-time software updates are available!
>PIN Drivers
Quantity: 48-pins standard
Rise time: 6ns
VCC Range: 1.8-10V
Icc Range: 0-800mA continuously programmable
Vpp Range: 2.5-25V
Ipp Range: 0-400mA continuously programmable
Clocks: continuously variable 1Hz-48MHz
Protection: overcurrent shutdown,power failure shutdown
Independenec: pin drivers and waveform generators are fully independent and concurrent
Standard Accessories Included
SmartPRO 5000UICP downloading cable
Software on CD-ROM
AC/DC adaptor
User manual
1-year hardware warranty
USB cable